2824 N. Penn Ave. | 405-528-2824
Curiously situated on NW 28th & Penn Ave, Rococo Penn is a quaint eating spot in the Shepherd Historic District.
The menu presents an eclectic display of Italian, French, Asian, American Steakhouse, and East Coast seafood, including the famous Rococo Crab Cake and Sunday brunch.
Owner/Rococo Penn Executive Chef
Married to wife Amber and the loving Dad to two rambunctious boys, Bruce Rinehart is the owner of Rococo and the executive chef of Rococo Penn.
Chef Bruce spent his early years honing his craft in some of the best in kitchens in America.
In 2003, he moved from Boston to Oklahoma City to open a great East Coast style restaurant on the middle coast.
Chef Bruce's gregarious personality is directly responsible for the relaxed, yet attentive, service you can expect from Rococo restaurants.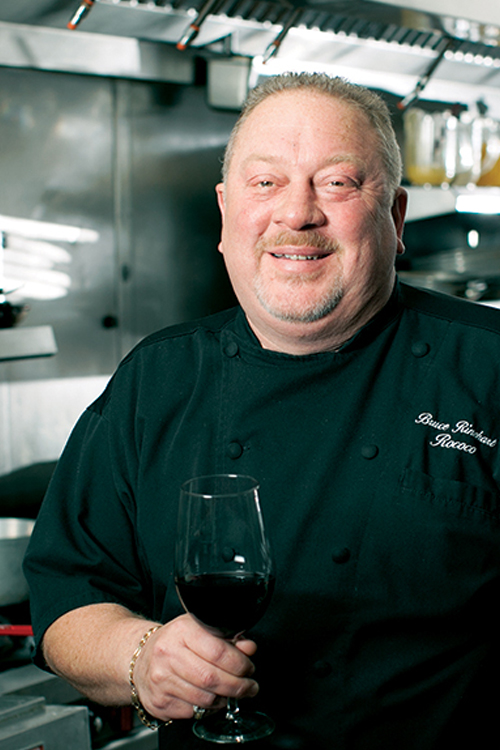 12252 N. May Ave. | 405-212-4577
Anchoring The Shoppes at Northpark, Rococo North May is a mix of warm ambiance and lively character.
In addition to an inventive menu of steaks, pastas, and East Coach seafood, the restaurant includes two bars, an intimate fireplace nook, a private dining room, and the popular chef's table.
Partner/Executive Chef Rococo North May
Chef Jason Bustamante started working with Chef Bruce Rinehart as a food runner at a Connecticut resort.
.
After moving up the "line," Bustamante followed Rinehart to an upscale Boston restaurant where he learned to master every corner of the kitchen.
.
In 2003 Chef Jason moved to Oklahoma City to help Rinehart open his own "East Coast style" concept – Rococo Restaurant & Bar.
Chef Jason opened Rococo North May in 2011, where he is the managing partner and executive chef.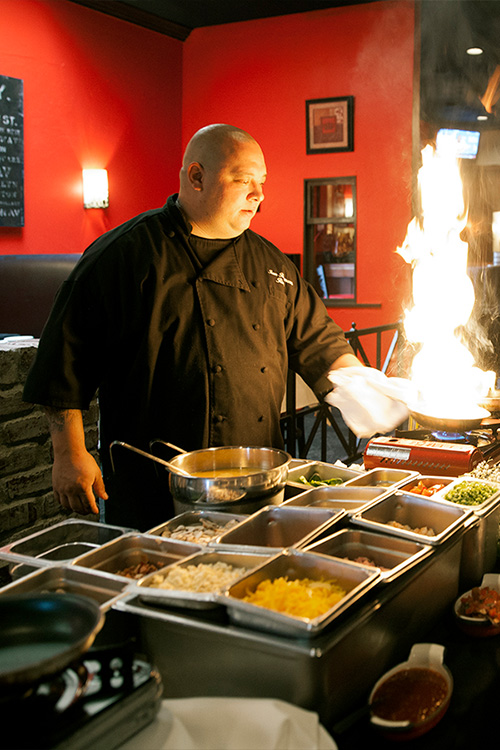 "One of the best restaurants in OKC. Fantastic wine selection. Had one of the steaks and it was excellent. The appetizers had very large portions and served four easily. Great atmosphere."
Google

"Fine Dining With a Personal Touch"
"One of - if not the - finest restaurant in OKC. The food is phenomenal, and the service is unparalleled. It is fine dining with a personal touch."
Yelp

"First time eating here. Everyone, from the wait staff to the customers, was very friendly. The meatballs were outstanding and the crab cake was the best I have ever had in OKC!!"
OpenTable

"Delicious food, great atmosphere, impeccable service. If I could rate it 10 stars, I would. We will definitely be back next time we visit OKC."
Facebook